Opening Up Artistic Institutions with Nina Simon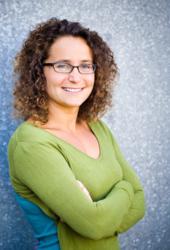 Nina Simon the Executive Director of the Santa Cruz Museum of Art & History and blogger at Museum 2.0, recently gave a knock-out key note speech at this year's National Arts Marketing Project (NAMP) Conference in Charlotte, NC. During her speech, Simon reflected on how she and her museum's staff have taken a radically different approach to their museum's community engagement. Simon writes on her blog:

The first way we open up is by inviting active participation. We see every visitor who walks in the door as a contributor who can make our museum better. We seek and encourage collaboration with diverse groups and individuals in our community, and we develop ways for people to contribute in both immediate and long-term ways...
... The second way we open up is by treating our artifacts as

social objects

that can mediate interactions among people from different backgrounds. We've all seen how a pet dog can connect two strangers despite the social barriers that abound. How can we make museum objects more like dogs? How can we use our artifacts to activate important conversations about the future of our communities? At the MAH, we do this by designing thoughtful opportunities for interaction around artifacts, so that visitors see them less as holy objects and more as starting points for dialogue. And when we do it right, this approach brings people together across social division towards something approaching understanding and mutual respect.
The full speech, which she has been taking around the world, has been uploaded to
TEDxTalks's Youtube channel
(also embedded below) and is worth the 15 minutes to watch. At Fractured Atlas, we're always advocating for the arts to fundamentally re-examine their relationship to their constituencies and find new ways of connecting with them. Simon shows that actively inviting your community to participate in your art, can not only enrich your relationship with your audience, but also translate to a bigger bottom line and financial stability.